Elucidate Retreat! A Caribbean Yoga Retreat February 2019 - Tulum, MX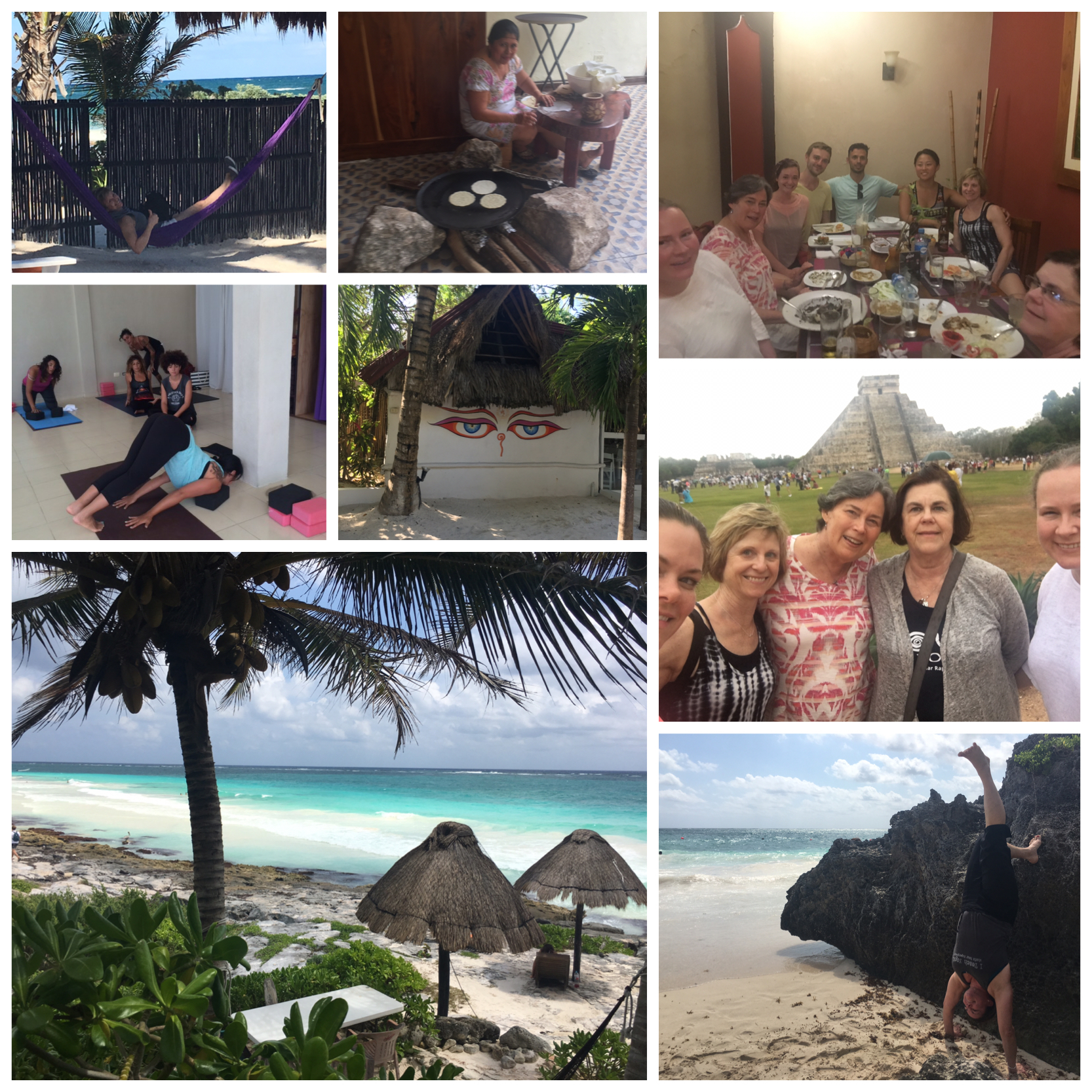 TULUM, MX
February 1-7th 2019
Elucidate Retreat!
Join us for our fourth annual retreat to the magical town of Tulum, Mexico, part of Rivera Maya on the Caribbean Sea.
single: $2200, double: $1900, GLAMP-ing is also be available for four lucky participants upon request
PAY $700 non- refundable DEPOSIT DUE DECEMBER 1st 2018, must be paid in full by January 9th , flight is separate. To have more details sent to you please contact us at toulayogacr@gmail.com

Please send checks to Toula Yoga, 2720 1st Ave. NE #108, Cedar Rapids, IA 52402
Weather Related Cancellations for Toula Yoga classes
We will let you know if classes are canceled on the bottom of the first page of our website.

We have our eye on Monday, January 5th 2015!

Note that we will provide a make-up class or give students a credit for classes missed because of cancellations.

Stay safe out there!
Holiday Stress Relief Yoga
Winter Solstice, the darkest night of the year, and a new moon tonight makes it even darker. I embrace the dark because it helps me to appreciate the light. Starting tomorrow it will become lighter and lighter every day. The next two weeks Toula Yoga Studio will offer special holiday stress relief classes instead of the weekly classes. The teachers at Toula have worked hard to prepare these special classes for you and they are ready to add more and more light to your life with their time and talents. There is PiYo with Darcey, Holiday Stress Relief concentrating on hips and shoulders with Andra, a restorative Relax & Renew class with Elleni. Gentle Yoga with Betsy and Candle light slow Flow with Sarah will allow us the unwinding we need this time of the year. Nancy will lead an empowering handstand workshop and Maria will have us twisting out all our toxins in a Strong, Power Yoga detox class at the beginning of the New Year. I am forever grateful for all of my yoga teachers who taught me how to find my inner light and taught me how to access it when I need to make my own sunshine. Toula means light. Our studio has full spectrum light bulbs which mimic natural sunlight. Full spectrum lights have the potential benefit of warding off S.A.D. If you are feeling your dark to light balance is off please come to one of our workshops or to our weekly classes starting January 5th. You will be lit up from the inside out!

Please go to our schedule page of toulayoga.com for more information on these classes.
CR Gazette Article featuring Toula
We love brand new beginners!
Our grand opening session at Toula Yoga starts April 7th 2014
If you've ever thought about trying a yoga class this is the time you should start.
We have grand opening special pricing and there will be tons of people joining our classes who have
little experience or no experience in yoga. (join us in a 6 week session by March 23, 2014 and you'll get your next six week session for half price.
You could use that discount for another time slot in the first same 6 weeks.
Whether you are looking for stress relief or just want to gain more ,physical strength and balance, you should
join us at Toula Yoga in Cedar Rapids, Iowa. We would love to meet you!